YAY!
After many months, and some trials and tribulations, have successfully completed the 4.0 kit and am quite happy with the results.
The fan is currently running, cool I might add, and will be taking pictures to post here in the near future (my goal anyways).
As part of the picture taking progress will also document, with a Kil-a-watt device, the actual energy usage in both low speed and high speed.
Overall am quite impressed with the build.  Longest part was figuring out easiest way to wind the motor, but once figured that out (1/2 way through) it was very easy.  While your results may vary, I fashioned brackets out of a coat hanger for each side and inserted those into two pieces of old copper plumbing pipe (3/4").  Wrapped a piece of tape on each side to keep it from rotating within the pipe and inserted said contraption into two milk crates and weighted each down to prevent from moving.  After that attached pair of vice grips to turn the contraption and off I went.
In the picture below the motor winding is in the middle, and the spool of wires is on the left, suspended in a box. Only picture have of the process.
Just wanted to say thanks to the Keppe Motor people.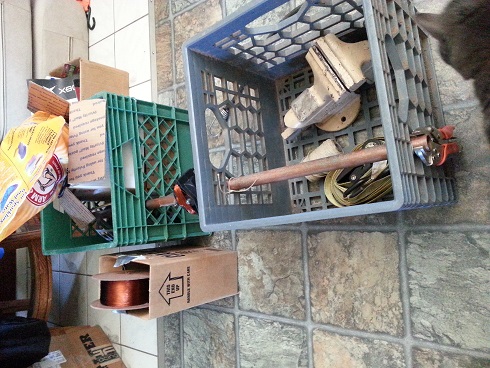 Last edited by kutch2001 on Thu Jul 18, 2013 8:54 pm; edited 1 time in total (Reason for editing : Better description of picture)